Creative Curriculum™
At the heart of the Bright Beginnings approach to early childhood education is The Creative Curriculum™. This is the country's leading scientifically based comprehensive curriculum for programs serving children from birth to age 4.

We believe our curriculum should be integrated with high-quality assessment, professional development, and family connection resources to create a well-rounded program that addresses the needs of early childhood education professionals, children, and their families.

The Creative Curriculum™ helps us plan and implement a developmentally appropriate program that promotes children's social-emotional development and learning in the core areas of literacy, mathematics, science, and social studies.

It combines the latest research and the freshest ideas into a forward-thinking approach to learning--one that honors creativity and respects the role that preschool teachers play in making learning exciting and relevant for every child in their classrooms.

The Creative Curriculum™ unique approach is designed to inspire daycare teachers to help them create a high-quality learning environment and, most of all, to support their important efforts as they open doors to successful learning.

With The Creative Curriculum™ our program can put together a complete system that promotes positive outcomes for all children, including English-language learners, children with disabilities, and advanced learners.

The Creative Curriculum™ is based on five fundamental principles. The Creative Curriculum™ guides practice and helps us understand the reasons for intentionally setting up and operating programs in particular ways. The principles include:
Positive interactions and relationships with adults provide a critical foundation for successful learning.
Social-emotional competence is a significant factor in school success.
Constructive, purposeful play supports essential learning.
The physical environment affects the type and quality of learning interaction.
Teacher-family partnership promotes development and learning.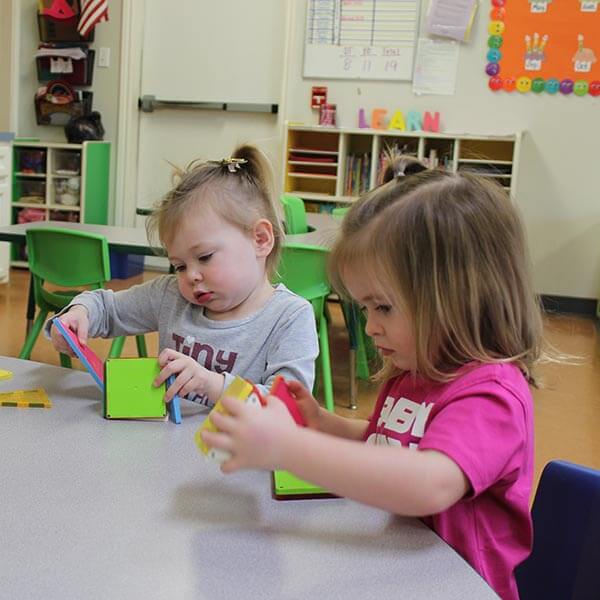 The physical environment of our classrooms has a profound effect on individual children, the group as a whole, and the preschool teachers. We want to provide a physical setting that is safe, attractive, comfortable, and well designed to help children engage in the activities we offer each child. The Creative Curriculum™ includes interest areas which are ideal for children to explore, make things, experiment, and pursue their interests. The Creative Curriculum™ classroom has defined interest areas for dramatic play, block building, toys and games, art, looking at books, writing, sand and water play, discovery table, cooking activitie and music.
Our Daily Lesson Plans
Each Lead Teacher creates weekly lesson plans that are specific to their group of children's development needs and interests within the designs of the Creative Curriculum™. We always cover a weekly theme, a color, a shape, a letter, numbers, counting, singing, along with small group, large group and outdoor play. Some weekly theme examples are listed below:
Modes of Transportation
All About Me
Under the Sea
Let's Get Cooking
At the Zoo
My Friends
My Family
Things that are Warm
Things that are Cold
Dinosaurs
Juicy Fruits
Lets Go Fly a Kite
The Sun
Spring has Sprung
My Feet & Hands
Under the Big Top
Colors of the Rainbow
Things that are Salty
Things that are Sweet
Creepy Crawlers
Wild Wild West
Life's a Beach
Sports Week
When Life Gives You Lemons
I love Dad
I Love Mom
Outer Space
My Five Senses
Good Hygiene
Dr.Seuss
Construction
Throughout the investigation into each of these different topics we focus on all areas of development including, social emotional, physical, language, cognitive, literacy, math, science and technology, social studies, and the arts.

Each daily lesson plan is based on the children's developmental needs in the classroom. Our daycare teachers continually observe and document on children's development.

Our childcare teachers complete checkpoints (or, assessments) several times a year. The preschool lesson plans are created based on where children are developmentally at each of these checkpoints. This ensures that our daily lesson plans are tailored for the individual needs of our students, your children.